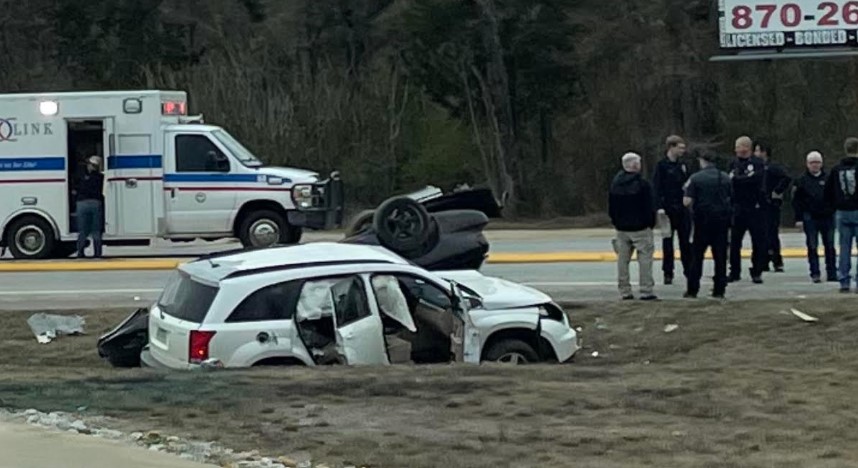 Authorities have released more details about a Wednesday afternoon pursuit that ended with a two-vehicle collision in Batesville.
According to the incident report, an Independence County deputy spotted and pursued a vehicle that had eluded another deputy earlier in the week. The vehicle, a Pontiac Firebird, was noted to have come from a possible drug house in the Rosie or Salado area, the report said.
The Firebird was spotted near McDonald's when Deputy Chris Seat got behind and pursued the vehicle through parts of Batesville and the surrounding area. According to authorities, the car passed multiple vehicles at a high rate of speed, at times nearly hitting other vehicles traveling in the area.
Authorities said the Firebird's driver, identified as David Scarbrough, 32, of Batesville, eventually tried to turn onto Barnett Drive at a very high rate of speed before losing control of the car. Authorities say it began to skid sideways and hit a concrete median resulting in the vehicle rolling over and striking another vehicle. Both vehicles ended up in the ditch. Police say the Firebird had rolled over on its top and against the other vehicle, an SUV, in the ditch.
Scarbrough was reported entrapped in the vehicle while the SUV driver was thrown into the passenger seat.
Multiple officers extricated the unidentified SUV driver and began patient care. Rescue personnel extricated Scarbrough from his vehicle and transported him to the hospital. A female passenger of Scarbourgh's was not injured.
Police said, on initial observation, a used syringe and pill bottle with multiple mismatched pills were located in the vehicle. Officers said Scarbrough ran 15 stop signs during the pursuit.
Independence County Sheriff's deputies, Batesville Police officers, Arkansas State Police, the Batesville Fire Department, Vital Link EMS personnel, and more were reported working the accident around 2 p.m. yesterday.
Authorities say Scarbrough could face three felonies and a misdemeanor as a result of the fleeing. Arkansas State Police worked on details of the collision.
Image: White River Now