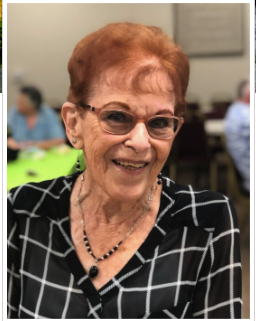 Gertrude "Trudy" Ann Camara died on Thursday, March 16, 2023, in Batesville, AR at the age of 85. Trudy was born Gertrude Ann Moulyn, on June 30, 1937, in Ripon, CA, to the late Jacob Moulyn and Georgia Ann (Postma) Moulyn. Trudy was of Christian faith and served the Lord as a member at Harrison Street Church of Christ, but also as a loving wife, mother, daughter, sister, grandmother, great-grandmother, aunt, cousin, and friend.
Trudy enjoyed being outdoors, whether it was camping, being on the lake skiing, or just traveling. Lately, Trudy enjoyed watching Hallmark Channel movies and shows. Out of all Trudy's hobbies and passions, nothing meant more to her than her faith and her family. She loved spending time with her family, especially her grandchildren, and great-grandchildren. Trudy was happiest on a Sunday evening after church, surrounded by her loving family. She will be dearly missed and forever loved by all who were blessed to know her.
Trudy is reunited in Heaven with both of her parents; her husband, Joe Camara; her 4 brothers, Richard Moulyn, Andy Moulyn, Jack Moulyn, and her twin, Norman Moulyn; her sister, Adrianna Meidema; her daughter, Kathy Valdez; her grandson, C.J. Saarloos; and two great-grandsons, Michael Spiess and Connor Carey. She is survived by her son, Chuck Saarloos (Kerri); her daughters, Sandy Thien (John), Sue Donahue (Jerry), and Renee Carey (Tony); her brother, Bill Moulyn (Jeanie); her 12 grandchildren; her 20 great-grandchildren; and many nieces, nephews, extended family, and friends.
Arrangements are entrusted to Willis Funeral Service of Batesville, AR. A memorial service, officiated by Matt Threlfall, will be held at Ripon Church of Christ in Ripon, CA, on Saturday, April 22, 2023, at 11 am with lunch to follow.