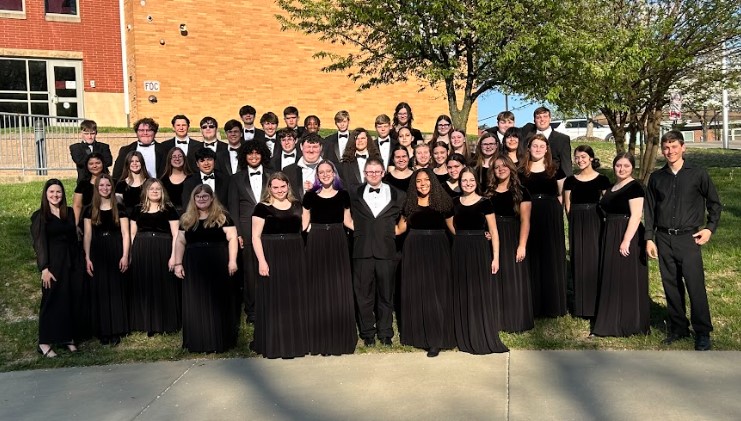 The Batesville High School Choirs came away with high scores and a few state titles after competing in the State Choral Festival, held last week in Conway at the Reynolds Performing Arts Center on the University of Central Arkansas campus.
The Concert Choir, which is open to all students, earned all Superior scores (94, 93, 93) and qualified for the ArkCDA (Arkansas Choral Directors Association) Sweepstakes trophy, meaning they had earned Superior scores throughout all region and state levels of competition. They finished fourth place in their division (5A Large Mixed Chorus).
Chamber Choir, an auditioned ensemble of 11 9th-12th grade singers, earned all Superior scores (92, 95, 96) and the Sweepstakes Trophy. On top of this, they placed first in all 5A Small Ensembles, earning the title of "Best in Class Overall."
Bella Voce, an auditioned ensemble of 15 9th-12th grade ladies, was not to be outdone. In addition to their Superior scores (94, 95, 95), they also earned a Sweepstakes trophy, first place "Best in Class Treble, and first place "Best in Class Overall" for a second year in a row.
"It's been an amazing year seeing the commitment and dedication to excellence these students have exhibited. It's the first time in school history to have three groups sweep state with Superior scores, all earning Sweepstakes Trophies, two groups win best-in-class titles, and a group earn that title in back-to-back years," said Alicia Davidson, director of choirs for the Batesville School District. "I get the privilege of seeing that dedication each and every day, but it is extra special to see that dedication rewarded in these honors. We have a great group of upperclassmen that have led the way, demonstrating the standard for our younger singers. I couldn't be more proud of these Pioneers."
The choir also competed in a National Competition in St Louis, Mo. Concert Choir earned sixth place, Chamber Choir fifth place, and Bella Voce earned second overall. Students were rewarded with a day at Six Flags and an evening at the City Museum.
Batesville School District