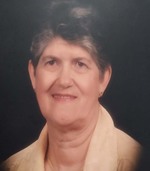 Clara "Yates" Prince was born April 27, 1933, in Tyronza, Arkansas and the Lord took her home on May 6, 2023.
She was a faithful member of the Bono Church of Christ since 1964 until she moved to Waycross, Ga in 2017 and placed her membership with the Northside Church of Christ.
She was preceded in death by her husband Juneis Prince, her son Wayne Prince, and her sister Sallie Longcrier-Duty.
She is survived by her daughter Vickie Cain and Son-in-law Charles of Blackshear, Ga.; Daughter-in-law Debbie Prince of Norman Park, Ga. and Daughter-in-law Melody Prince of Leesburg, Ga.; Grandson Dustin Weir of Perry, Ga., Grandson Daniel Weir of Hawkinsville, Ga., Granddaughter Mary Prince Hobgood of Norman Park, Ga., Granddaughter Ashley Prince Crenshaw of Montgomery, Al; Grandson, Juneis Wayne Prince Jr. of Leesburg, Ga., and Granddaughter Kirstie Prince also of Leesburg, Ga. She was Great Grandmother to four great-grandsons and five great-granddaughters.
In Arkansas, she leaves behind her brother, Larry Stevenson, sister-in-law Sharon, niece Donna, nephew Ron Sylvia, and many family and friends whose lives she touched.
She will be laid to rest in a graveside service Friday, May 12th, at 2:00 pm at the Pinelog Cemetery in Brookland, Ar.
Honorary Pallbearers will be Charles Cain, Dustin Weir, Daniel Weir, Juneis Prince Jr., Andrew Crenshaw, Jason Hobgood, Kameron Prince, and Kolby Prince.
She will be greatly missed by all who knew and loved her.