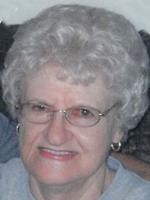 Lillie Faye (Jones) Ray, age 90, of Newport, AR entered eternal rest on May 6, 2023.
Lillie married W. L. Glenn Ray on March 11, 1950, and enjoyed 46 years of marriage before his death in 1996. Lillie was the sole survivor of her birth family, outliving her siblings; two brothers, Eugene Jones, and Knox Jones along with four sisters, Emily Summers, Rose Mae Whatley, Pauline Smith, and Aleta Webb.
Lillie had several jobs throughout her lifetime that included managing motels and apartment complexes, clothing manager at retail stores, and financial officer at her husband's drywall company. She collected Precious Moments statues and traveled to their establishment in Carthage, MO with her sister Emily. She loved traveling with her sisters, Emily, and Leta after her husband's death.
She was preceded in death by her husband, W. L. Glenn Ray, and son, David Ray. Carey Glenn Ray is presumed dead.
Surviving Family members are her daughter, Joyce Mary Ray; daughter-in-law, Joelyn Katherine Foy; daughter-in-law, Linda Ray, and daughter-in-law, DeEttaCrane; along with her grandchildren, Noah, Katrina, Jenny, David, Amy, Danielle and Sean.
Funeral services are 2:00 p.m. Saturday, May 13, 2023 at Jackson's Newport Funeral Home Chapel. Friends may visit prior to the service, beginning at 1:00 p.m.