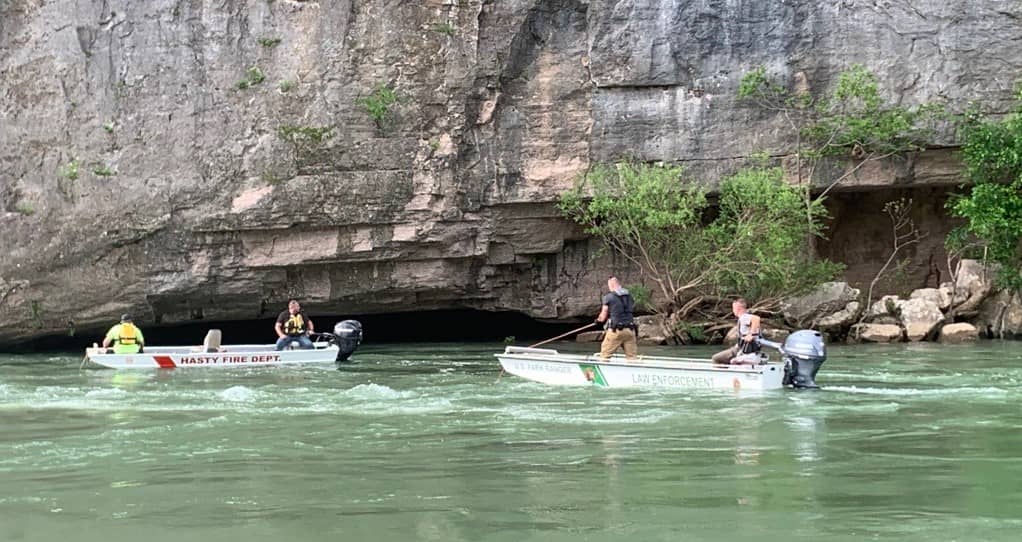 Featured image: The search continues for the man who was swept under at Grinders Ferry in Buffalo National River.
UPDATE, May 19, 2023, 9:30 a.m.: The body of Salamanca Saravia has been discovered. Click here for more information.
A 39-year-old man from El Salvador is missing after being swept under in the Buffalo River on Tuesday afternoon.
According to a release from the National Parks Service (NPS), Fidel Angel Salamanca Saravia was swimming with friends at Grinders Ferry, a section of the river 10 miles north of Marshall, Ark., when he apparently lost his footing and was swept underwater by the current. He was not wearing a life jacket.
National Park Service Rangers arrived on the scene and immediately began searching the area via motorized boats. Searcy County Sheriff's Office and Searcy County Dive Team also responded, and divers searched the water until dark on Tuesday.
The National Park Service, Marshall Fire Department, North Arkansas Regional Medical Center, Harrison Fire Department, and Mennonite Disaster Services assisted during this incident.
The search will continue into the coming days. Volunteers are not needed at this time, according to the NPS.
This is the first person lost on the Buffalo River in 2023. However, the NPS said mere days before, another incident occurred in the same location, resulting in the near drowning and hospitalization of multiple people.
The National Park Service urges people to be safe when swimming in the Buffalo River. The river can be dangerous, even for experienced swimmers. It is important to wear a life jacket and to closely supervise children.
To report an emergency, please call 911 or the park's 24-hour dispatch center at 1-888-692-1162.
Tips for Safe Swimming
Always wear a life jacket when swimming in the Buffalo River.
Be aware of the current, and do not swim in areas where the current is strong.
Do not swim alone.
Supervise children closely.
Avoid swimming in areas with rocks or other hazards.
Be aware of the weather conditions, and do not swim in areas that are prone to flooding.
If you see someone in trouble in the water, call 911 immediately.
Image: NPS