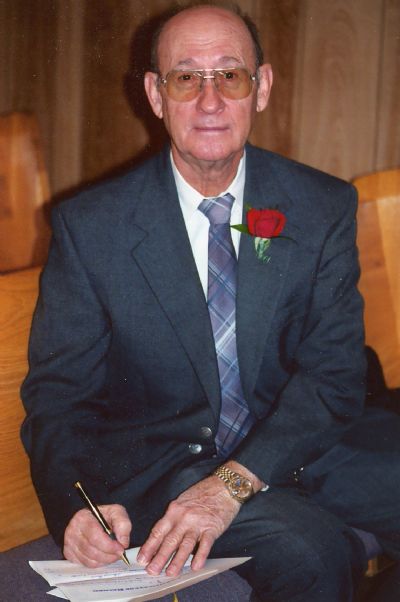 Charles Crowson, 90, of Batesville passed away Sunday, May 21, 2023.
He was born November 8, 1932, in Rector, Arkansas to James Vivian Crowson and Irene Glasgow Crowson.
Charles was a member of Rehobeth Baptist Church in Moorefield. He was a minister for over 65 years. He worked as a case manager for the Spinal Cord Commission for the State of Arkansas for over 30 years; he also built ramps and helped people who were wheelchair-bound. Charles also volunteered at WRMC for several years. He was a very compassionate man and loved his family dearly, especially his grandkids and great-grandkids. He was an avid hunter and fisherman; he even organized a fishing tournament every year for handicapped people.
Survivors include his two daughters, Sheila (Arnold) Martin of Ward and Mavis (Gary) Young of Batesville; one brother, Gary (Cathy) Crowson of England; six grandchildren, Chuck (Jenny) Martin, Justin (Lauren) Martin, Spencer (Britany) Young, Jeremiah Young, Colton Young, and Tara Crowson; and eight great-grandchildren, Hannah Laden, Riley Martin, Aubrey Martin, Meritt Young, Christian Young, Paxton Young, Cayden Green, and Ava Young; as well as several nieces, nephews, cousins and friends.
He was preceded in death by his parents; his wife, Norma Jean Crowson; brothers, Bob Crowson and Donald Crowson; sister, Melba Crowson; and great-grandchild, Fisher Young.
Pallbearers will be Chuck Martin, Justin Martin, Spencer Young, Jeremiah Young, Colton Young, and Steve Crowson. Honorary Pallbearers will be the Men's Sunday School Class.
Funeral Services will be held at 2:00 p.m. Wednesday, May 24, 2023, at the Rehobeth Baptist Church with Roger Crum officiating. Burial will follow at Wyatt Cemetery in Rosie under the direction of Roller-Crouch Funeral Home of Batesville.
Visitation will be held from 12:00-2:00 p.m. Wednesday, May 24, 2023, at the church prior to service.
Memorials may be made in his honor to The Gideons International Processing Center, P.O. Box 97251, Washington, DC 20090-7251 or http://gideons.org.