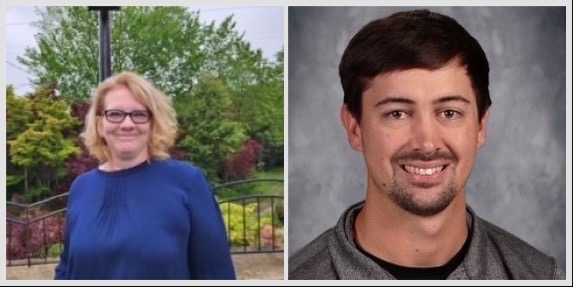 Batesville School District's Sulphur Rock campus has two new administrators: Melissa Mergy has been introduced as Principal, and Jace Dunegan is the new Dean of Students. According to the district, both were promoted internally.
Mergy (pictured above, left), a 2010 graduate of Lyon College, is the current dean of students at Sulphur Rock. The district says her focus as principal will be "…on supporting teachers and staff to ensure students are challenged every day, and ensuring supports are in place to meet those challenges."
Dunegan (pictured above, right), a Batesville native and a graduate of Arkansas State University, has been a seventh-grade math teacher at Batesville Junior High and an elementary physical education teacher at Midland.
Dunegan says his focus "…will always be on the students and providing assistance for our staff to help our students be successful both in their learning and personal growth. I am so excited to begin this next chapter of my career and learn from so many great educators that are already in the building."
The Batesville School District announced earlier in the year it would be adding 100 preschool slots to the Sulphur Rock campus. This will service children six weeks old to five years old. According to the district, the current preschool, located on Vine Street, has a waiting list of over 480 students.
Images submitted