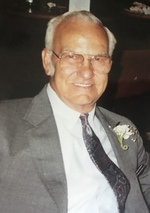 Billy D. Harris of Newport, Arkansas, departed this life on Wednesday, May 24, 2023, at the age of 93. He was born January 12, 1930, in Memphis, Tennessee, the son of Conrad Divella and Guyluia Mary (Walker) Harris.
On July 15, 1949, Mr. Billy D. Harris was married to Miss Betty Jean Moore, and together they enjoyed 70 years, building a life and raising three children.
Mr. Harris was a United States Army veteran, serving in Korea. During his enlistment, he was a mechanic and a tank operator.
Mr. Harris spent many years as a truck driver for Revere Copper and Brass. Following his retirement, he proceeded to teach truck driving at ASU Newport and drive for Harris Ford.
He was an avid outdoorsman, who enjoyed camping, hunting, and boating on the river. Mr. Harris loved spending time with his friends at Senior Circle. Ever a sports fan, he especially loved attending his grandchildren's games.
Mr. Harris was preceded in death by his wife of 70 years, Betty Jean (Moore) Harris; one brother, Travis Harris; two sisters, Betty Owens, and Inolene Stiner; and his parents.
He is survived by one son, Rickey Neal Harris, and wife, Kathy of Bradford; two daughters, Patricia Brantley of St. Louis, Missouri, and Linda Gail Blackwell of Beaumont, Texas; five grandchildren, Shannon Brantley, Chad Harris, Jennifer Brickner, Josh Harris and Terri, and Zach Harris and wife, Lyz; seven great-grandchildren, Ally, Jake, Aubrey, Harper, Hayes, Tripp, and Sam; two sisters, Shirley Davis and husband, Ewell of Newport, and Joyce Ahart of Cabot; many nieces, nephews, and a lifetime of friends.
Friends may visit at the funeral home Friday, May 26, 2023, beginning at 1:00 p.m. Funeral service will follow at Jackson's Newport Funeral Home Chapel at 2:00 p.m. Friday, with Bro. Albert Mullins officiating.
Those honored to serve as pallbearers are Chad Harris, Josh Harris, Zach Harris, Jake Brickner, Shane Davis, and Barney McCoy. Honorary pallbearers are Jimmy Don Nicholson, Paul Gillium, and Darryl Massey.