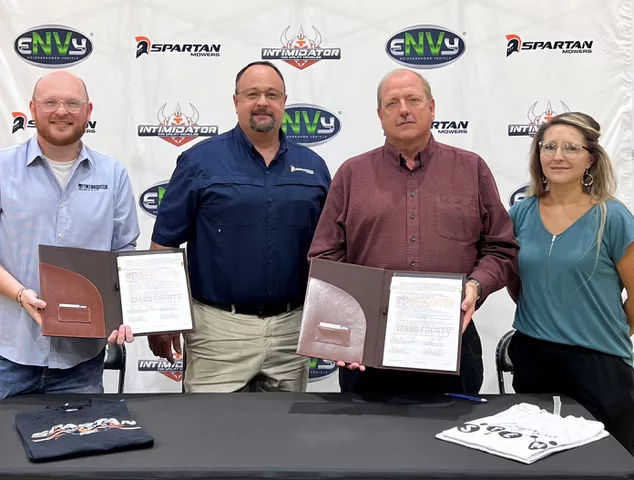 Intimidator Group and ICC signed an agreement to establish the Engineering  Pathway at an assembly held in the ICC gymnasium at Brockwell on Friday, Aug. 25. Pictured above from left to right: Intimidator Group Human Resources Manager Wiley Osborn, Intimidator Group Director of Engineering Jeremy Gill, ICC Superintendent Fred Walker, and ICC STEM Coordinator Courtney Selph.
***
Intimidator Group and Izard County Consolidated (ICC)  recently announced their partnership to establish an Engineering Pathway, a collaborative effort  between the engineering team at Intimidator Group and the ICC high school staff for introducing  students to technical careers through a work-based learning program. 
"As a local manufacturer, one of the hurdles we face is recruiting for technical positions in this  area," said Jeremy Gill, director of engineering, Intimidator Group. "By working directly with our  educators, we can generate interest in these types of careers early on and show students how  they can pursue well-paying technical jobs close to home." 
Under the direction of ICC's STEM coordinator Courtney Selph, the program is designed to  promote exploration of and exposure to the engineering field through project-based learning  experiences. The Engineering Pathway is open to students in grades nine through twelve and  includes courses like Intro to Engineering and Design as well as Computer Science Essentials.  As the program grows and develops, course offerings will continue to expand. 
"Living in a rural community, it is so important that we expose our students to postsecondary  education opportunities and work endlessly to educate them in career pathways both in and  outside of the STEM realm," said Selph. "Jumping at an opportunity like this was  unquestionably a step forward in our district's STEM journey, but it was also another way to  show that we put our students and their futures first." 
Intimidator Group and ICC officially kicked off the partnership by signing the agreement at a  high school assembly on Friday, Aug. 25. Students were addressed by representatives of both  organizations explaining the benefits of the program, including the tangible assets provided by  The Toro Company (TTC), parent company of Intimidator Group. 
Along with the instruction and  mentorship of professional engineers, TTC is donating three 3D printers, robotics kits, and an  all-expense paid trip to The Toro Company's headquarters in Minnesota for the students and  parents of the team that wins the capstone design competition. 
"We are excited to begin this partnership with Intimidator Group so that we can continue to offer  new opportunities for our students," said Fred Walker, ICC School District superintendent. "This  initiative follows closely with our STEM program, and we look forward to helping provide future  engineers for the Intimidator and Toro groups."
Image and information provided by Intimidator Group