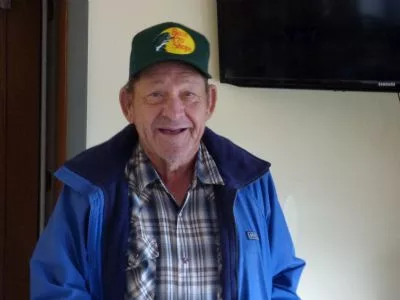 Billy Lee Huffman, age 87, went to his eternal Heavenly home on September 16th, 2023. He was born in Searcy County, AR on February 18, 1936. Everyone knew him as Billy or Papaw. He was a great man, who never complained, was never disrespectful, or had a regret in life. He was a man who always put his family before himself. The small things in life brought him joy; he never expressed the desire to have anything more than what he had been provided. Evenings on the weekends were spent in the pickin park, listening to his favorite music and visiting with his many friends. When he wasn't there, you could guarantee to find him at Lancaster's Hardware Store-it was the first stop every time the family visited. He was the epitome of a legend, one who deserved so much, but never asked for a single thing other than the occasional burger from the Krispy House, which was more frequent than he probably would admit. Papaw, you will be missed, however, we know you are living your dream in Heaven, working on a farm and driving on a 4010 John Deere and combining acres and acres of fields with Mamaw by your side. We love you and one day we will all be reunited and no more goodbyes.
As we honor the memory of Billy Lee Huffman, let us try to embody the values he held so closely, his unyielding commitment to hard work, passion for music, adventurous spirit, his great sense of humor, his witty jokes, his smiles that brighten the darkest days, unwavering kindness and profound love for family. By keeping these qualities alive within us and sharing them with others through our daily actions and decisions, we can pay tribute to the incredible heritage that Billy (Papaw) created in his lifetime.
Billy is survived by his son and beloved daughter-in-law, Charlie and Pam Huffman of Neosho, Mo. Daughters, Sandra husband, Johnny Sutton of Mountain View, AR, Judy Brem, Janet Motes of Mountain View, AR. Eight Grandchildren, Karona Paschke, Josh Huffman, Naomi Blankenship, Jessie Brem, Steven Brem, David Motes, Jesse Motes, Jacob Motes and 12 Great Grandchildren.
Billy is preceded in death by his loving wife of 54 years, Ermaline (McDearmon); his Mother, Eathel Huffman; his Grandparents, Sarah (Middleton) Huffman and Jesse James Huffman.
Services were held with Brother Jim Chandler officiating.
Pallbearers were Josh Huffman, Isaac Blankenship, Jessie Brem, Orven Phillips, Lonnie Clark and Theo Vann. Honorary pallbearers were Johnny Sutton and Jerry White.