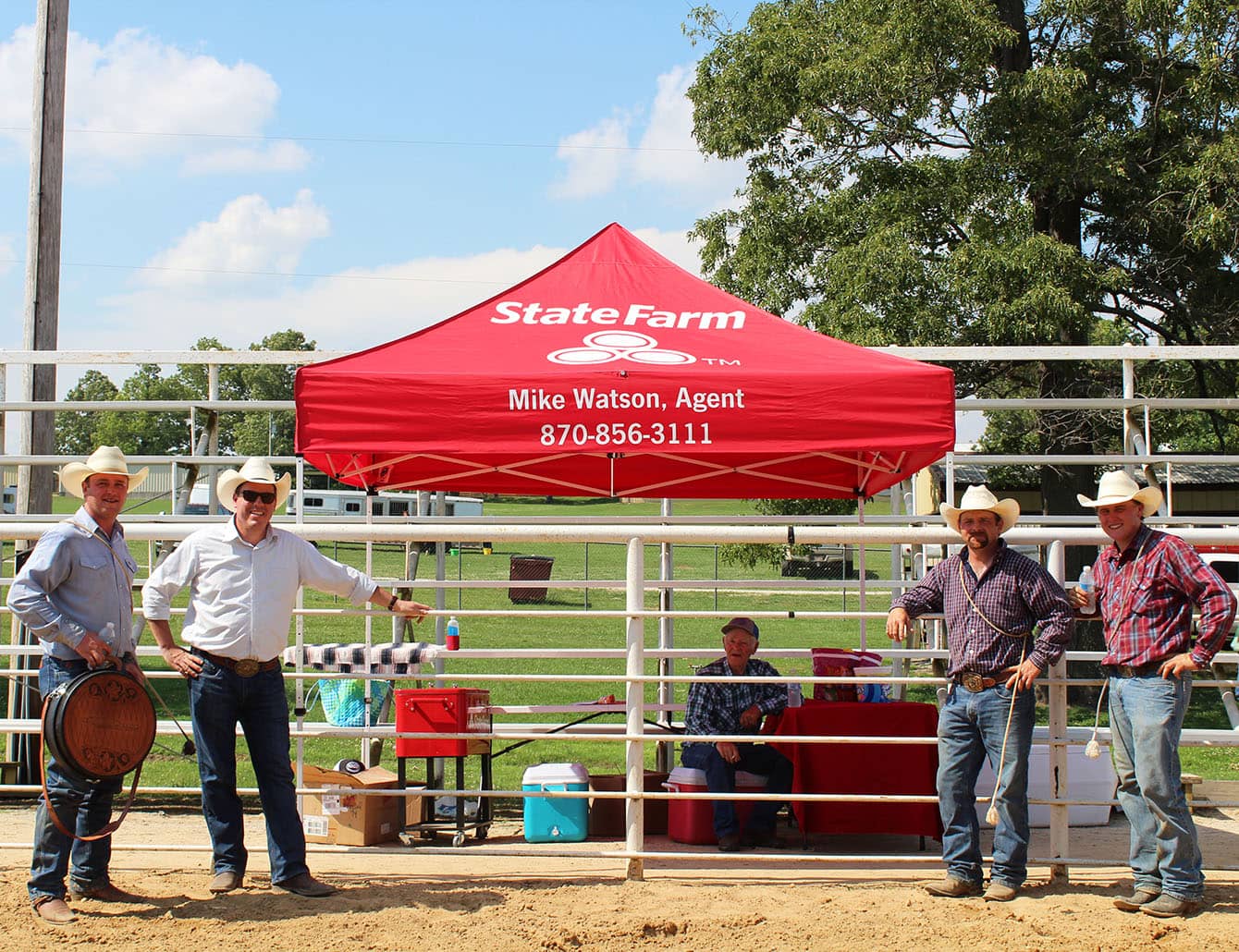 The 6th Annual Wayburn Watson Memorial Calf Roping was held on May 19 at the Izard County Fairgrounds in Melbourne. This event serves as a fundraiser for the Wayburn Watson Memorial Scholarship that has already awarded $6,500 in scholarships and made a positive impact on the lives of at least 13 Ozarka College students.
Don "Wayburn" Watson's family shared that he loved coaching, but he loved rodeos and the cowboy way just as much. Mike Watson founded this calf roping and scholarship to honor his Dad by combining two things that he enjoyed the most in life – rodeo and education. Mike said, "It is our goal to raise enough money that we can endow a scholarship in my Dad's name for students attending Ozarka College."
Blake Ash of Aurora, Mo. returned to defend his title as reigning champion and he did just that! Blake won first in the average and Roy Lee of Benton, Ark. had the fastest time of the day and won second in the average. Nathan Sanders, fellow calf roper and event coordinator said, "This event draws in cowboys from several states, not just the locals. Our furthest travelers this year came from Oklahoma."
Family and friends also attend this event as spectators to show their support for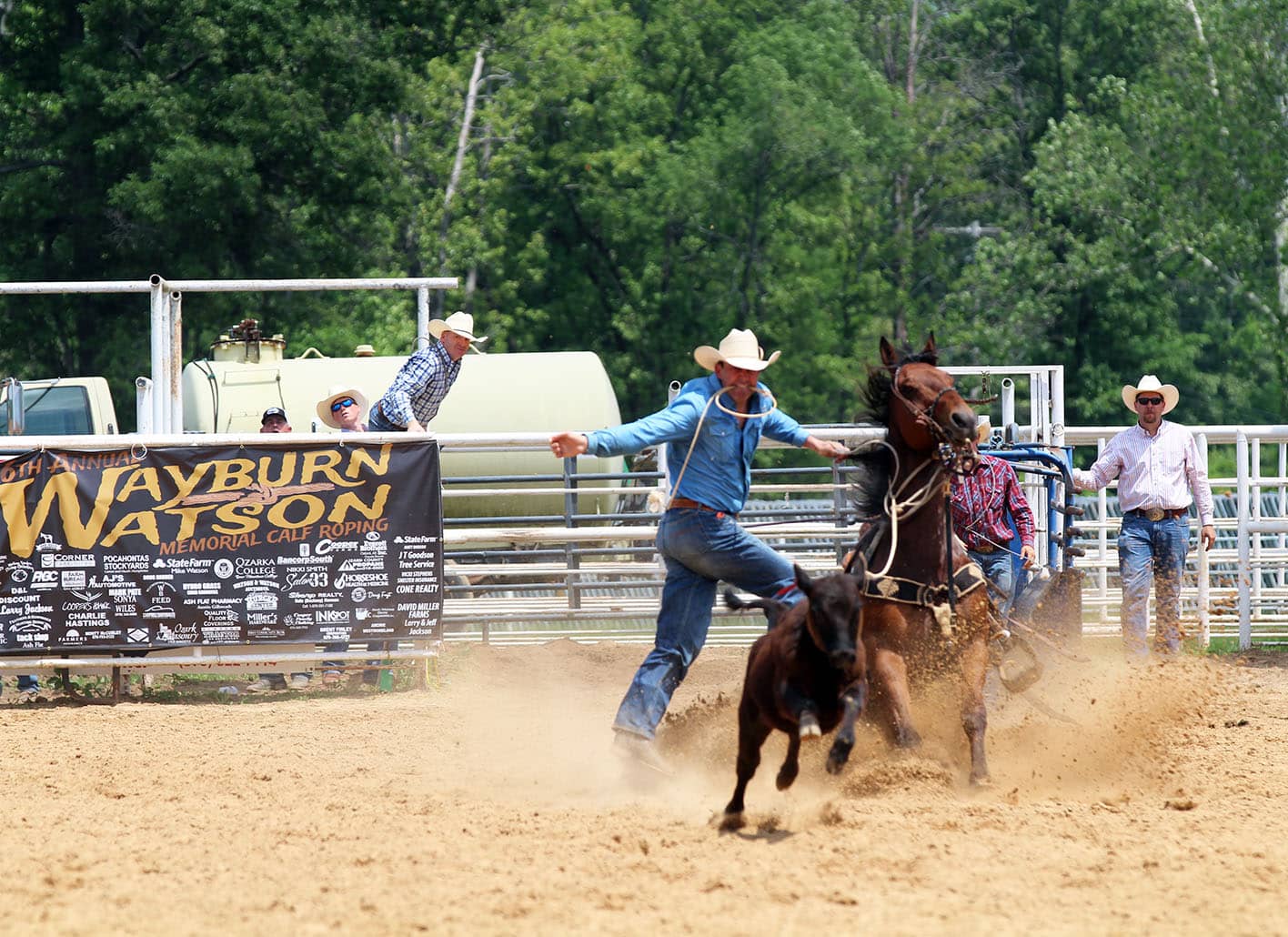 Wayburn and his legacy.
Wayburn was a lifelong resident of Melbourne, where he graduated high school in 1947. After high school, he enrolled at Arkansas Technical College in Russellville, Arkansas, but was drafted into the United States Army. He served from 1952 through 1954 before receiving an honorable discharge. Wayburn later completed his teaching degree at Arkansas State University in Jonesboro and was employed by the Melbourne School District for 23 years as an instructor and coach. During his career, he earned several achievements such as state titles, Coach of the Year, and an induction nomination into the Arkansas High School Coaches Association Hall of Fame.
After retiring from coaching and teaching, Wayburn was employed for 21 years as a livestock inspector for the Arkansas Livestock and Poultry Commission. He was a dedicated and knowledgeable cattle farmer and enjoyed announcing IRA Rodeos for Don McKee all over Missouri. In the late 1970s through the early 1990s, he announced rodeos for Paul McCarson and Clyde Kurck, legendary Arkansas Cowboy Association (ACA) contractors. In 2011, Wayburn was voted Cowboy of the Year by the Arkansas Cowboy Association.
The scholarship committee would like to thank the following individuals and businesses who sponsored the 6th Annual Wayburn Watson Memorial Calf Roping: AJ's Automotive, Arch Westmoreland, Ash Flat Pharmacy, BancorpSouth, Billy Bob Billingsley, Brent Finley Construction, Burger Center, Campbell's Auto Sales, Chad Saunders – Hydro Grass, Channel 5 – Son and Retha Lamb, Centennial Bank, Charlie Hastings, Cone Realty, Connie Everett , Cooper Clothing, Cooper Farms, Copper's Hawk, Corner Drug, Countryview Trailer Park, D & L Discount, David Jenning's Tack Shop, Doug Harber, Farm Bureau – Gina Mobley, Farmers Insurance – Monty McCurley, Feathers and Gunpowder, First Community Bank, FNBC Bank, Horseshoe Health and Medicine, Ink Spot, Izard County Propane, JT Goodson Tree Service, Larry and Jeff Jackson, Linn Garner, Lyle Sanders, Mark Pate, Mary Power Chiropractic, Matt Bodson State Farm, Mike Watson State Farm, Miller Cattle and Poultry, Miller's Hardware, Mj's Images, Nathan Sanders Stump Grinding, Newburg Tractor and Equipment, North Arkansas Electric Cooperative, Ozarka College, Pocahontas Stockyards, Quality Floor Coverings, Red Mule, Salon 33, Sharp Realty – Bucksey Harmon, Shelter Insurance – Vicki Stephenson, Sonya Wiles Dentistry, Tankersley Logging, and Watson and Watson Auctioneering.
Contributions for the Wayburn Watson Memorial Scholarship are accepted at any time of the year. To make a donation, please call Suellen Davidson (Ozarka College director of advancement) at (870) 368-2059 or Mike Watson at (870) 856-3111.