The Southside Southerners weightlifting team nabbed the 4A state championship at the 28th annual Arkansas High School Weightlifting Championships. The event was held Saturday, April 20, at Charles B. Dyer Arena in Alma.
The competition saw the Southerners coming in at the top of the 4A group with a total of 4,730 lbs. Mena followed with 4,555 lbs. Fountain Lake (4,495 lbs.) and Trumann (4,480 lbs.) came in third and fourth, respectively.
The Southerners head strength and conditioning coach, Deerick Smith (pictured below, center), told White River Now this morning he and fellow coaches Jonathan Edwards (left) and head football coach Kenny Simpson (right) have a good team, and they were proud of the group's performance.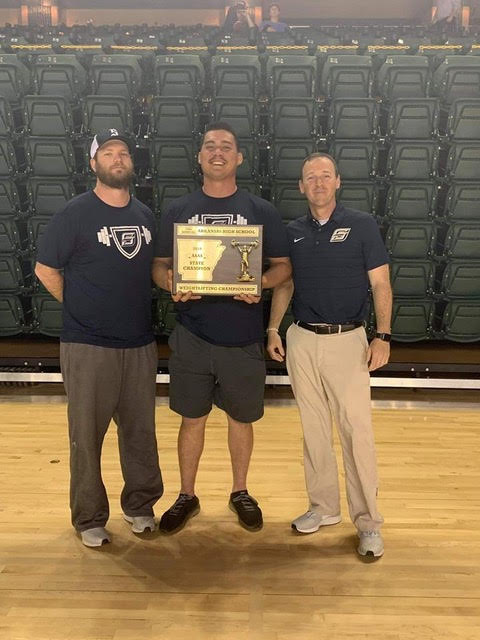 Team members include: Bryson Duncan, Scotty Murphy, Ryan Herron, Michael Langston, Trenton Eastridge, Alex Palmer, Larkin Jones, Braden Jones, Seth Wojick, Cameron Morris, Jace Grigsby, and Blake Beach. Palmer finished second overall in his weight class and received a medal.