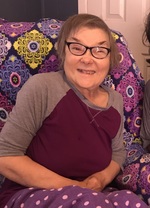 Brenda Bass, 63 of Harrisburg departed this earthly life for her heavenly home on Wednesday, April 20, 2022, at Woodbriar Nursing Home in Harrisburg, Arkansas.
She was born on June 8, 1958, in Trumann, Arkansas the daughter of Ray and Faye (Hooper) Bass.
Brenda's parents both preceded her in death, and one brother, Bobby Joe Bass, and one sister, Betty Masters.
She attended the Assembly of God Church in Bay Village for many years and she enjoyed spending time with her family and friends.
Brenda is survived by one brother, Bill Bass, two sisters: Paulette Worley and Beverly (Bass) Harris all of Harrisburg.
The family will serve as active pallbearers. Bro. Steve Mabry and Bro. Shawn McElhannon will conduct the service.
Visitation is from 1:00 until Service time on Saturday. Service Time is Saturday at 2:00 P. M. April 23, 2022, at Jackson's Funeral Home Chapel in Harrisburg, Arkansas. Interment will be in Bay Village Cemetery.