[wpvideo yPhR1wTi]
---
The Lyon College Black Student Association and the UACCB Multicultural Student Association recently hosted "Black History Celebration" at the historic Melba Theater in downtown Batesville. The event was held in conjunction with Black History Month.
Black History Month is an annual celebration of achievements by African Americans and a time for recognizing the central role of blacks in U.S. history. The event grew out of "Negro History Week," the brainchild of noted historian Carter G. Woodson and other prominent African Americans. Since 1976, every U.S. president has officially designated the month of February as Black History Month.
The event featured local speakers – Taylor Donnerson, president of the Lyon College Black Student Association; Pastor Rian Puckett, Faith Hopewell Cumberland Presbyterian Church; Deborah Frazier, UACCB chancellor; Ridge Hester, Lyon College Student Body President; Stu Smith, former Batesville School District educator; and Van Taylor, UACCB Multicultural Student Association Advisor.
Musical performers included the Lyon College Gospel Choir, The Anointed Ones, Mr. Ridge Hester and the West Baptist Church Youth Choir. Other presentations were given by the Fellowship of Christian Athletes, United Methodist Community Youth Group, and the Melba Theater.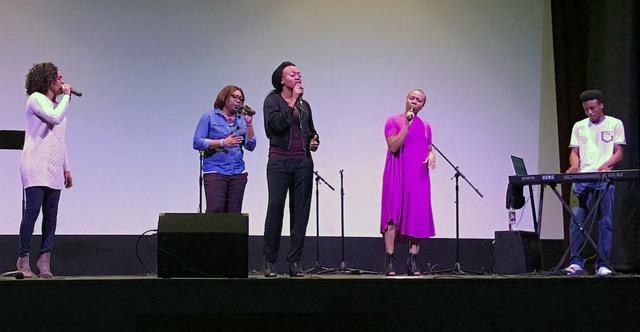 The Anointed Ones performing at the recent Black History Month Celebration / Image submitted

West Baptist Youth Choir performing at the recent Black History Month Celebration / Image submitted