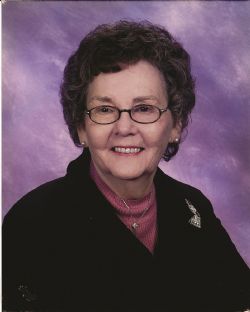 Naomi Eva Gayler, 89, of Mountain View, Arkansas, passed away on Friday, May 7, 2021.
Naomi was born in Fifty Six, Arkansas, on Sept. 26, 1931, to the late Abrahm Lincoln and Vera Faith (Decamp) Hedges.
Naomi met Carl at the local Gayler church and dated until they married at the tender age of 15 and 18.
They moved to Indio, California, where Carl worked in the date fields. Naomi got a job behind the counter at Shields date shop selling and making date shakes.
After, they briefly lived in Massachusetts while Carl was in the Air Force and later in Boulder City, Nevada, but primarily lived and raised their two oldest children, Ivan and Carla, in Southern California. They settled back in Mountain View in 1972, to be nearer their parents and families and raise their youngest son Keith. Naomi is known as a loving, devoted wife and mother who enjoyed keeping a happy home and cooking her specialties for all, especially blackberry cobbler, for which she was known. She delighted in spending time with her family and friends whether it was quilting with her sisters, playing Spades, dominos, entertaining, or embroidering while listening to recordings of the Bible. Her home and heart were always open and she greeted everyone with love and a smile. She was a member of Flatwoods Missionary Baptist Church. Her daily walk with God exemplified her unwavering faith which she shared with those around her.
She is survived by three children, Ivan Carl Gayler, Carla Sue (Mabry) Gayler, and Keith Sevoy Gayler; six grandchildren, Mariah Gayler, Jerrod Jay Mabry, Nathan Jay Mabry, Angelica Gaia Gayler, Mila Iva Gayler, and Graham Henry Gayler; one great-grandchild Denali Bryce Gayler; three sisters, May Irene Shipman, Mary Ann Herman, and Martha Sue Pfeifer; one brother Ronald Fulton Hedges; and a host of nieces and nephews.
Naomi was preceded in death by her parents Abrahm Lincoln and Vera Faith (Decamp) Hedges; her loving husband of 73 years, Carl Sevoy Gayler; and three sisters, Margie Louise Stevens, Dorothy Myrtle Stevens, and Erma Hope Sefton.