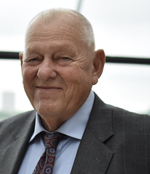 Marcus Lafayette Beard Sr. departed this life on Tuesday, Aug. 10, 2021, at the age of 83. He was born July 2, 1938, in Weldon, AR, the son of Eli Edward Beard, Sr. and Christine (Pruitt) Beard.
Beard was a 1956 graduate of Newport High School. He was a Sergeant in the Army National Guard. He had a mechanical knack which allowed him to excel at fixing almost everything and worked as a TV repairman, gas station owner, mechanic, water plant manager, and rental property owner. He enjoyed traveling in his RV from Alaska to Mexico and many places in between. Fishing on the White River near Mountain View, AR, was his favorite pastime, but his greatest loves were spending time with family and spoiling his grandchildren.
He married Linda Sue Carlton of Beedeville, AR, and had three children, Marc, Karen, and Eli. After Linda Sue's untimely death in 1987, he subsequently spent many years married to Joy Foll and thought of her children, Sunni & Chad, and her grandchildren as his own.
Mr. Beard attended Flint Baptist Church in Tyler, TX.
Mr. Beard was preceded in death by his wife Linda Sue Carlton Beard; four brothers, Eli Beard Jr., Billy Beard, Buster Beard, and Hubert Beard; four sisters, Thelma Beard, Delma Beard, Edith Grigsby, and Jessie Carson; and his parents.
He is survived by two sons, Marcus Beard Jr. and wife Melissa, of San Antonio, TX; Eli Beard and wife Karyn, of Tyler, TX; one daughter, Dr. Karen Lewing and husband David, of Lee's Summit, MO; one sister, Betty Ellis of Newport; ten grandchildren, Trent Beard, Jordan Beard, Bailey Beard, Madeline Lewing, Claire Lewing, Hannah Beard, Elizabeth Beard, Katie Beard, Matthew Beard & Caroline Beard; second wife, Joy Foll Beard; one stepson Chad Lowe; one stepdaughter Sunni Rector and their children and grandchildren.
Friends may visit at the funeral home Friday, August 20th from 5:30 p.m. until 7:00 p.m.
Funeral services will be held Saturday, Aug. 21 at 10:00 a.m. at Eight Mile Cemetery, AR-37, just north of Beedeville, AR, with Bro. Llano Robinson officiating.
Honorary pallbearers are Mr. Beard's nephews: Edward Beard, Mike Beard, Bill Beard, Jim Beard, Mark Ellis, Eric Ellis, Larry Grigsby, and Jerry Carson.
In lieu of flowers, memorial contributions may be made to:
Arkansas Game and Fish Foundation
2 Natural Resources Drive
Little Rock, AR 72205
or AGFF.ORG
Corresponding address for the family: 800 NE Del Lago Ct., Lee's Summit, MO 64064.