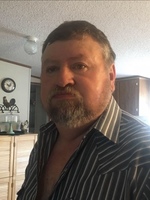 Donald "Donnie" Vinson, Jr., of Newark, Arkansas, departed this life on Saturday, August 6, 2022, at the age of 62. He was born October 5, 1959, in Batesville, Arkansas, the son of William Donald Vinson, Sr., and Barbara (McVay) Vinson. On August 5, 1977, Donnie married Miss Essie Jane Murphree, and they spent 45 years raising a family together.
He was a truck driver for 40 years, driving both cross country and locally. Donnie enjoyed hunting and fishing, but his greatest love came from spending time with his grandchildren.
He was a member of the Newark First Baptist Church.
Donnie was preceded in death by his father, William Donald Vinson, Sr.; and his brother, Scott Vinson.
He is survived by his wife of 45 years, Essie Jane Vinson of Newark; his mother and step-father, Barbara Vinson Munnerlyn and Darrell Munnerlyn of Newark; two sons, Adam Vinson and wife, Sara, of Newark, and Grant Vinson and wife Sarah of Charlotte; one daughter, Laci Cameron and husband, James of Newport; four grandsons, Brody, Colton, Rustin, and Grady Vinson of Charlotte; two granddaughters, Taydon and Kyleigh Ware of Newport; a host of family, and a lifetime of friends.
Friends may visit at the funeral home, Thursday evening, 6:00-8:00 p.m. Graveside services are 2:00 p.m. Friday at Maple Springs Cemetery with Bro. Bill Goodwin officiating.
Those honored to serve as pallbearers are Rick Jennings, Josh Jennings, Little Rick Jennings, Terry Gipson, Mike Herman, and Chris Banks. Honorary pallbearers are Tommy Martin, Tommy Pipkins, Ben Bishop, and Grant Stroh.