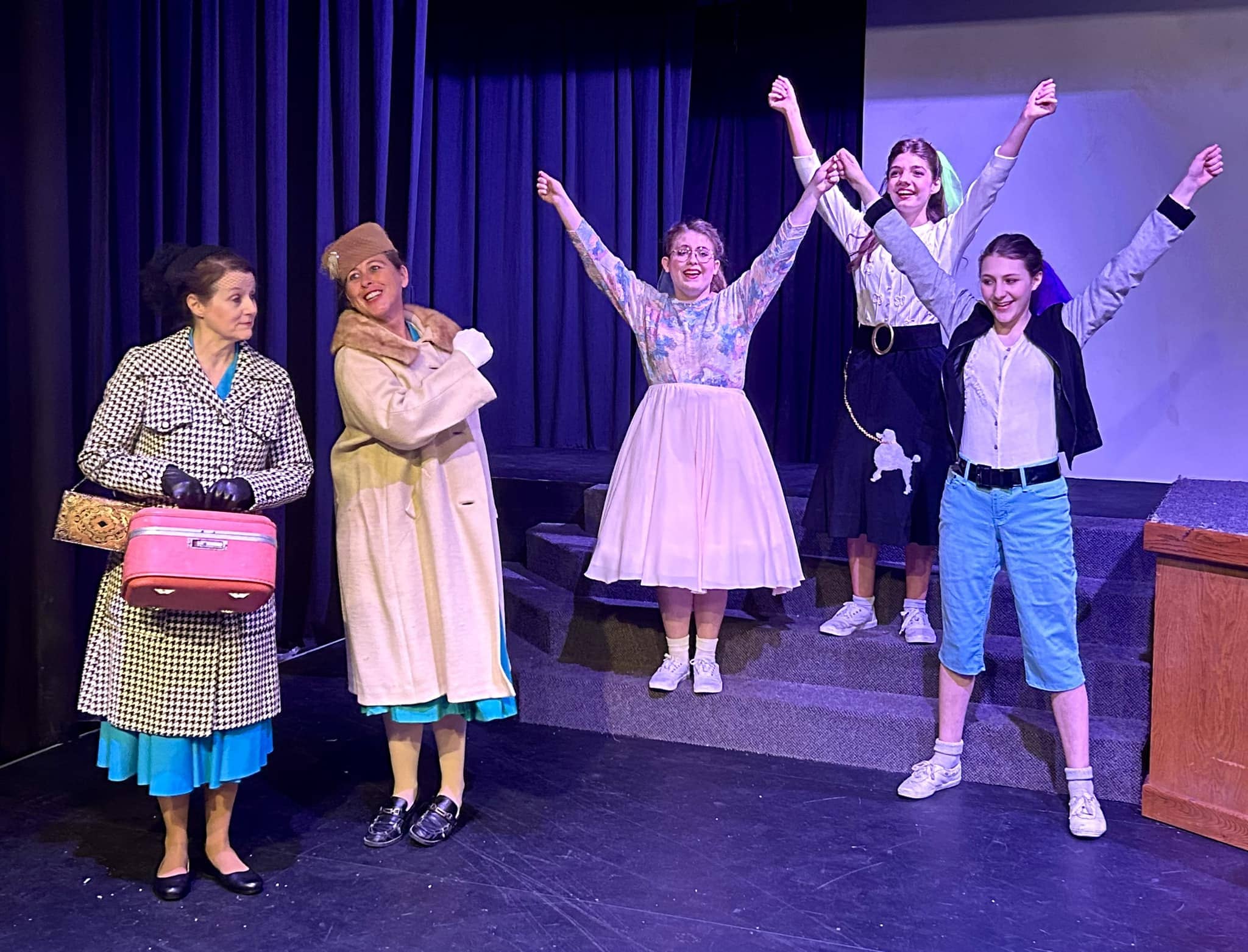 Review by Alisa R. Lancaster / Image: BCT cast members perform a scene from "Bye Bye Birdie," posted on BCT's Facebook
May 18, 2023
If you're looking for an evening filled with laughter, catchy tunes, and outstanding performances, look no further than the recent production of "Bye Bye Birdie" at Batesville Community Theatre. This delightful comedy about a rock and roll star bidding farewell to his fans before heading off to the Army was brought to life in a truly remarkable way. From start to finish, the entire cast was in sync, delivering a highly entertaining and engaging performance that left the audience captivated.
One standout performance came from Kristian Ameigh, who portrayed Albert Peterson, the endearing and charismatic manager of the rock star Conrad Birdie. Ameigh's portrayal was nothing short of fabulous, and his "tap steps" added an extra flair to his already impressive performance. He effortlessly commanded the stage, capturing the essence of his character with every move.
Cynthia Carius, in the role of Mrs. Peterson, showcased her versatility as an actress. Balancing seriousness with humor, she delivered a performance that was both heartwarming and hilarious. Her impeccable comedic timing and ability to connect with the audience made her a true standout in the production.
Julie Williams, who played Rosie, Albert's love interest, gave a convincing and captivating performance.
Her chemistry with Ameigh was palpable, and she portrayed Rosie's determination and wit with great finesse. Williams truly brought the character to life, making us believe in the unfolding love story.
The MacAfee family, portrayed by Colyn Bowman, Dr. Caitlin Brown, Fonzie Geary Ill, and Patricia Corbitt, were an absolute delight to watch. Each actor brought their A-game to the stage, perfectly capturing the quirks and dynamics of their respective characters.
Patricia Corbitt's performance with Blaize Killion as Hugo and Joe Hutchison as Conrad Birdie added an unexpected twist to the triangular theorems, leaving the audience in stitches.
The supporting cast also deserves praise for their remarkable contributions. Quincy Beard as Harvey Johnson, Kori Brewer as Ursula, Jeanette Gibbs as Edna, Heather Corbitt as Mrs. Merkle, and Fonzie Geary III as the Mayor all delivered stellar performances. Their commitment to their roles and the energy they brought to the stage were evident throughout the production. The chorus accompaniments further enhanced the overall experience, ensuring an evening of pure entertainment.
It must also be mentioned that none of this could have happened without those behind the scenes individuals, Brandt McDonald, Publicity Chair; Georgette Sims, House Manager; Emily McMasters, Hospitality Chair; Betty Collins, Property Mistress; Sara Walker, Costume Mistress; Colyn Bowman, Technical Director; Makeup Coordinators, Whitney Massey and Savannah Warren; Stage Manager, Jeanette Gibbs; Light & Sound, Tammy Bowman & Bobby Simpson; Set Construction, Billy Horton, Bobby Simpson, and Garrett Field; Set & Graphics Designers, Bobby Simpson & Sara Harmon; Choreographers, Suzanne Magouyrk and Kristian Ameigh; Music Director, Angie Weaver; and Director, Tommie McDonald.
It must be noted that the local talent showcased at the Batesville Community Theatre is truly exceptional. This production of "Bye Bye Birdie was a testament to the dedication and skill of the performers. The level of professionalism and talent rivaled that of larger theaters we have attended, and it's a testament to the thriving arts community in Batesville.
In conclusion, the recent performance of "Bye Bye Birdie" at Batesville Community Theatre was nothing short of spectacular. The cast delivered a memorable and thoroughly enjoyable experience, with Kristian Ameigh, Cynthia Carius, and Julie Williams shining brightly in their respective roles. The comedic timing, engaging performances, and overall energy of the production made it a night to remember. Batesville Community Theatre continues to impress with its exceptional local talent, and we eagerly await their next performance.
"Bye Bye Birdie" runs Saturday at 7 p.m., and there is a Sunday matinee at 2 p.m. The show is at the BCT Performing Arts Center in the Town Plaza Shopping Center at 1295 Main St.
Admission is $20. Tickets can be purchased at the door for each performance.
For more information on the BCT production of "Bye Bye Birdie," click here.